High-Quality
Affordable

Window Handles

Ventiss is based in Bedfordshire, in the heart of the UK and was formed in 2011 due to increasing customer demand for high quality affordable window handles.

We also wanted to offer a range of handles that can be easily fitted to new window frames before installation and to existing installations, enabling customers to upgrade the look of the windows they already have in their homes.

Before the Ventiss range, handles choices were limited to either practical and budget or high end, bespoke and expensive or limited to either fitting just timber windows or just uPVC windows, so we designed Ventiss to fit timber windows, uPVC windows and even metal windows, so no-one needs to miss out.

We knew from customer feedback that there was a demand for mid-priced handle that was well made, secure and durable, that would enhance a window and complement both traditional and current trends in home interiors.
Features
at a glance
Styles are ergonomically-pleasing and easy to use
Tough as well as stylish handles - only the finest materials used in construction
Designed and manufactured in the UK
Made from zinc and high-quality robust steel
Complementary range of working or non-working pegstays available
Ten year guarantee
Call
01480 436578

for Further Details.
Style
Our handles are available in two distinct shapes, the Teardrop and the 360; both have been created to be ergonomically pleasing and easy to use for all the family.
The Teardrop is a modern twist on a more classic handle shape, but works well in all types of homes and interiors.
The 360 handle has a more minimalist design, where style melds with function and is suited to more contemporary interiors and to kitchen and bathroom windows.
The wide variety of solid and dual colour options available means that there is a perfect choice available for every room in your home.
Quality
The quality of the Ventiss range is of the utmost importance to us and in order to produce handles that are as stylish as they are tough, we only use the finest materials that will withstand the day-to-day requirements to today's busy lifestyles.
Our current two handle styles, Teardrop and 360 are totally designed and manufactured in the UK by our skilled team of experienced craftsmen and are made from zinc and high quality heavy duty steel.
Pegstays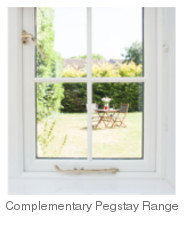 To complete the look, we also offer a range of pegstays to complement the handle colour options.
Our pegstays are available as working or decorative models depending on the type of window frame you already have or are buying. They are also designed and manufactured by the same team who make our handles, ensuring our quality standards are followed throughout the whole range.
Built to Last
For your added peace of mind, every Ventiss product comes with a 10-year guarantee.